mobiphos
Mobiphos is an application designed to run on digital cameras that supports the automatic sharing of photographs among members of a collocated group who are engaged in a social activity. Mobiphos allows users to easily take pictures, browse thumbnails of those pictures and share their photos within a collocated group of people in real-time. When a person takes a photograph using Mobiphos, that picture is automatically shared with every member of the collocated group. At the same time, she is able to view a constantly updating stream of picture thumbnails scrolling across her screen as they are being captured and shared with her by her fellow group members. From the user's perspective, all of the photographs captured by the group form a common repository of images whereby each member of the collocated group has access to all of the photos.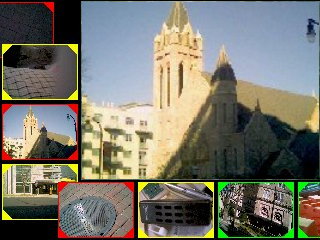 Screen capture of Mobiphos
Interaction details
The viewfinder is represented in the top-right 3/4 of the display, this area also doubles as the area where zoomed in photos are presented. The L-shaped area around the viewfinder shows thumbnails in chronological order. All photographs have a frame that has a color chosen by the user who captured the photograph. The wireframe to the right shows the animations. Here I describe each animation:
When the user captures an image, the picture from the viewfinder animates into the top-left corner.
When an image comes from another user, it animates into the top-left.
Either of these events cause the timeline to animate wrapping around the bottom-left corner...
...and the oldest image is moved off screen.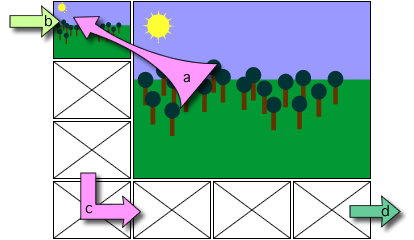 Wireframe of Mobiphos animations
Related Documents
A Study of Cultural Effects on Mobile-Collocated Group Photo Sharing. Nirmal J. Patel, James Clawson, Namwook Kang, SeungEok Choi, Thad Starner. Proceedings of GROUP 2010. Sanibel Island, FL, USA. November 7-10, 2010.
Mobiphos: A Collocated-Synchronous Mobile Photo Sharing Application. James Clawson, Amy Voida, Nirmal Patel and Kent Lyons. Proceedings of MobileHCI 2008. Amsterdam, The Netherlands, September 2-5. 2008. ACM
Mobiphos: A study of user engagement with a mobile collocated–synchronous photo sharing application. Nirmal Patel, James Clawson, Amy Voida and Kent Lyons. International Journal of Human Computer Studies (2009). Science Direct